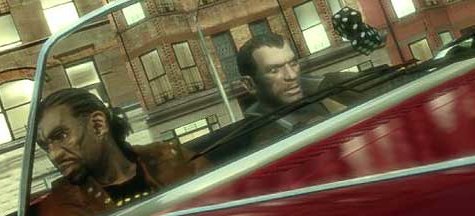 It only seemed appropriate to post an update to my tale of morality in Liberty City, given that Jeff is now dead. It's also appropriate, this time around, to talk slightly less in the first person.
Once again, the player bumps into Jeff on the street – a small blue icon on the map. Niko bumps into him; he's staring through a pair of binoculars at a house across the road. Niko is really unenthusiastic about meeting Jeff again, which I was pleased about. One trend that emerges throughout GTAIV is that whilst Niko has no hesitation about doing dirty work, that's all very dependent on the reasons behind it. He's angry that Brucie made him kill people simply because Brucie was hopped up on steroids, for instance; he's less angry about crimes that fit within his moral spectrum.
Niko is really angry with Jeff. This made me feel somewhat relieved, if only because it felt like this was going to pan out a bit better. It turns out that Jeff has remarried (an instance of GTA's somewhat liquid attitude to time) and is sitting watching his wife meet her ex. Of course, he's decided this is a bad thing, and he wants Niko to kill her.
Niko's having none of it, and gets quite angry with Jeff. Jeff starts yelling; Niko is "just like all the others", it seems, and Jeff crosses the road to do the deed himself.
At this point, I'm thinking: is this where I get to kill Jeff, right? This is where Niko gets to demonstrate a wider spectrum of his morals.
And then a supercar piles down the street and runs Jeff over. He bumps over the windscreen, scattering the contents of his wallets, and lies splayed on the pavement. A lawyer-type leaps out of the car, gets on the phone, starts telling the police he's had an accident. Jeff is still, splayed in the road.
Jeff has been killed in an accident appears, as a legend at the bottom of the screen.
I'm glad; I'm disappointed; I'm chastised. I'm glad he's dead. I'm disappointed I didn't get to kill him. I'm chastised for thinking about murdering a civilian.
---
The Jeff arc is a tiny, optional, three-mission plot in GTAIV, and I'm sure many players won't experience it. I'm not sure it does much for the game's misogynist reputation, which is something I am still sitting on the fence about – I have issues with some of its characterisation, for sure, but am not convinced of all the criticism thrown at the game. At the same time, it addresses an interesting issue that hasn't really come up in the series (even in San Andreas, where it might have been an obvious fit): namely, the gap between criminals and civilians, and also more objective viewpoints of "good" and "bad". The game is so heavily based upon subjective morals that it's a really interesting shift of perspective.
Whilst the Jeff missions were presented as a real arc, rather than a series of disparate events, I'm still totally frustrated by the lack of freedom offered in the second Jeff mission, which was really quite unpleasant and made me genuinely angry. Still, I'm glad I played through to the end of the arc. For what it's worth, there was a sense of closure.