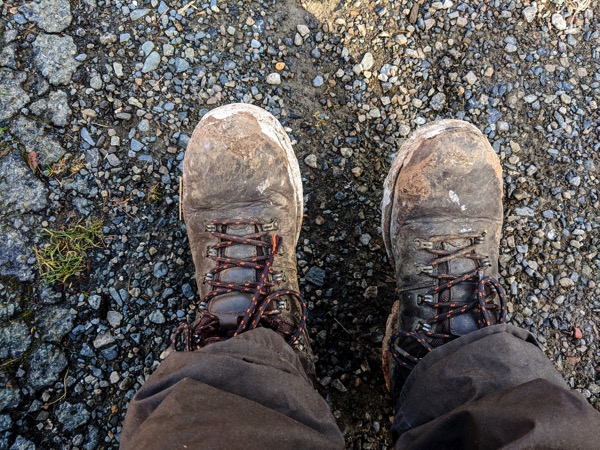 I hadn't properly cleaned my boots last time I put them away.
When I unbagged them and sat on the back of the car in the Lakes, a few weeks ago, they still had mud on them from a previous walk. Mud, from snow melting into earth, and white chalk, from the North Downs.
And now, that mud and chalk was translated a few hundred miles north, to be trodden into ground near Derwent Water.
A smile on the inside: how much mud and soil and who knows what else have I moved around the county, mixing tiny samples from one place into another?
My last pair of boots had taken me up hills in France, Cyprus, California, Australia. I didn't clean the Australian soil off them for a few weeks after I returned. I couldn't bring myself to do it; it was a final memento of a huge trip, a little piece of something alien, brought all the way home. I finally replaced those grey synthetic boots with these leather ones around 2016, when the old pair were just no longer waterproof. I was sad to do so; they had so many travels trodden into their soles; the new ones, stiff and clean, didn't feel like they could match up.
But now, a few years later, these ones have really started to get their miles in, slowly – and highly inefficiently – redistributing soil and dirt around the world.
They'll get a proper clean and wax in due course. In the meantime, I still like the tingle of all the previous journeys I see in them in moments like this.